Something about Komiza - old fishing tradition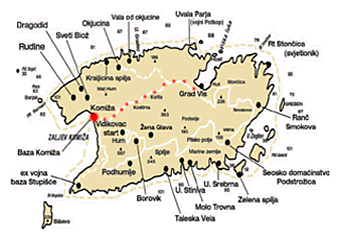 Komiza is a small village situated in a deep bay, whose eastern coast abounds with large pebble beaches (Kamenica, Gusarica, Nova Posta, Velo Zalo), Komiža offers excellent opportunities for visitors : quality private accommodation and lodging, self catering utilities, apartments and rooms and a number of cultural and historic sites - benedictine monastery Muster, fortress Komuna.
It is famous for its fishing tradition and vineyards. When in Komiza don't forget to visit Blue Cave on the facing island of Bisevo and several exciting excursions taking you around the island or to neighbouring smaller islands.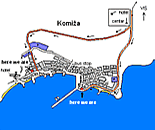 If you are interested in diving, amazing are boat wracks in the region of Komiza
and Vis accessible with local diving clubs. Its mild climate, the rich Mediterranean vegetation and the possibility of hare and pheasant hunting, make Vis attractive also in winter.
Also you can find us with the help of this map →
About us
Spend pleasant moments in our comfortable private accommodation and lodging that we offer in two different locations. You may choose between studio apartments with three stars (



) and 2 person/bedrooms and 3 person/bedrooms.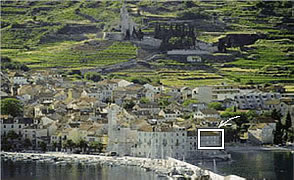 Our seaside location
Street address: Obala pape Aleksandra III / 5
It is a recently refurnished traditional stone house situated on the sea front, close to the beach and the town centre and the harbour - local marine and the main promenade with some good restaurants, cafés and shops. read more →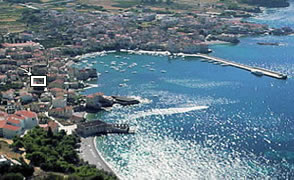 Our location near the main beach
Street address: Don Mihovila Pavlinovica 3
Our other location is on the other side of the bay near the hotel and the main beach of the town. It is also recently renovated stone house situated 30 meters from the sea, on the main way from hotel to the centre and near fish restaurants.read more →